This content has been archived. It may no longer be relevant
Advancing Sexuality, Gender and Rights in South Asia
Earlier trainings on sexuality was very theory and reading oriented – but in this training more participatory and easy methods were used – the approaches used were good. In the earlier trainings also they explained Gender and Sexuality but I never understood properly. I could not articulate and express. Now, I can explain clearly what this means. I have understood for life."
Participant from RHSTEP at Training of Trainers, Kathmandu | 2017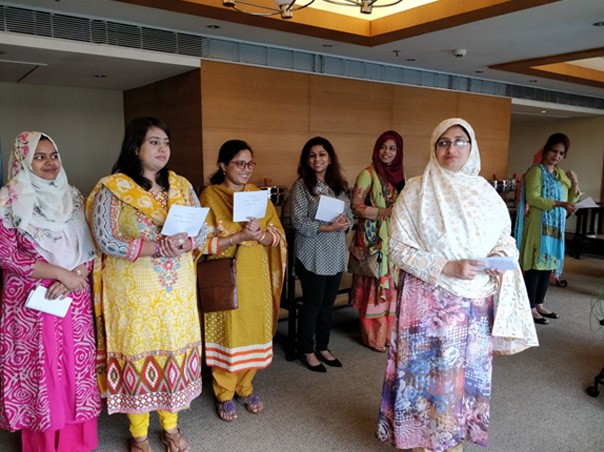 In 2014, CREA became part of a consortium, consisting of MDF Training and Consultancy B.V. (MDF), Rutgers WPF, and the Institute for Gender Studies (IGS) of the Radboud University. The consortium came together to provide training and technical support to three organisations in Bangladesh – The James P Grant School of Public Health (JPGSPH) of BRAC University, Reproductive Health Services Training and Education Programme (RHSTEP) and the National Institute of Population Research and Training (NIPORT). CREA was brought on board for its expertise on SRHR issues in South Asia.
CREA and KIT (Netherlands) helped JPGSPH develop a short course on sexual and reproductive health and rights, sexuality and gender for NGO workers, public health practitioners, researchers and lawyers. About one hundred participants from Bangladesh attended the three courses. The course curriculum covered issues such as Gender, Sexuality and Sexual and Reproductive Health and Rights.
CREA also worked with RHSTEP and NIPORT on including sessions on sexuality and gender into their existing training manuals on menstrual regulation (RHSTEP) and family planning (NIPORT) for community health workers. This was based on review of existing training manuals and needs assessment undertaken by CREA. The revised training manuals were approved by the Ministry of Health and Family Welfare, Bangladesh. Training of Trainers and refresher trainings were then organized and conducted by CREA for RHSTEP and NIPORT. The project was concluded in May 2018.