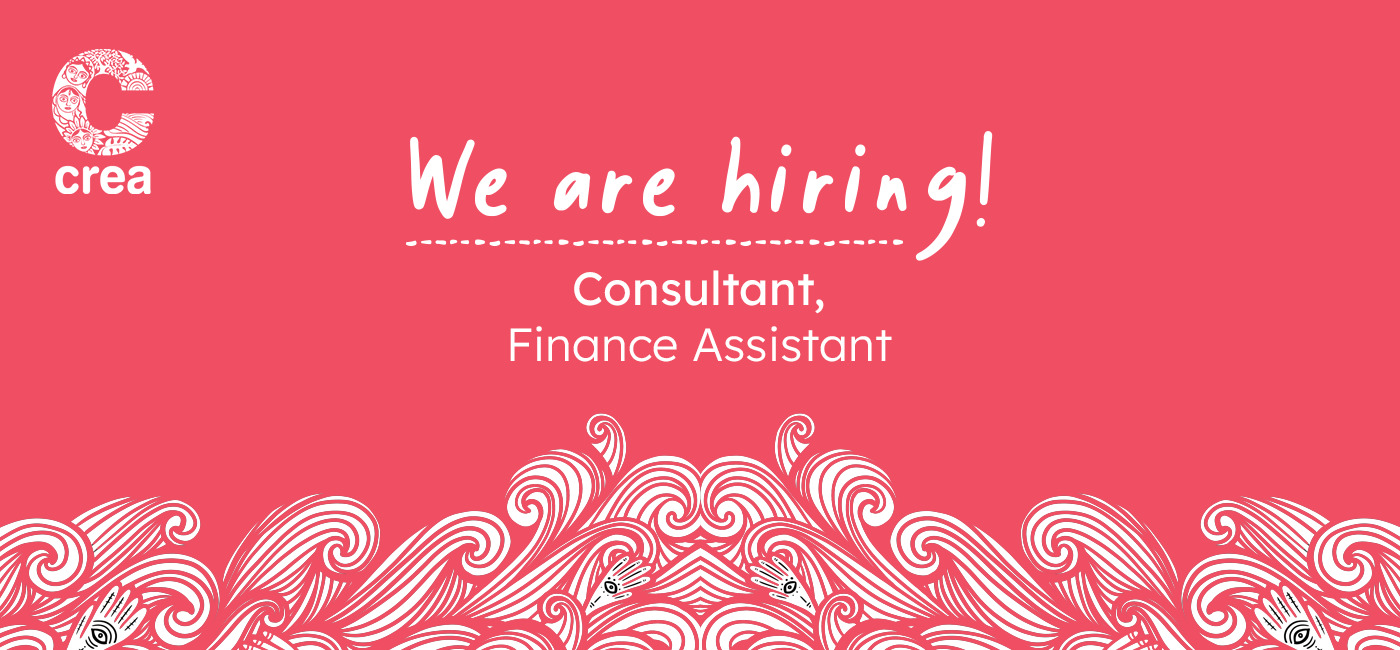 Title: Consultant – Finance Assistant
Location: New Delhi
Reporting: Finance Manager
Duration: 1 year
Status: Full-time
Position Overview
The Consultant – Finance Assistant will closely work with the Finance Officers. The Finance Assistant will assist the Finance Officers in finance and operations-related activities, from purchasing office equipment to the overall management of the financial operations of CREA, per CREA's strategic vision, mission, and goals. The Finance Assistant will implement and maintain systems to ensure strong controls and smooth financial operations and will be responsible for the following tasks.
Deliverables:
Perform accounting procedures to ensure adequate office operations that follow CREA's standard practices.

Responsible for interaction with vendors, consultants and staff members for invoices, payments, and payment confirmation.

Verify and check invoices/reimbursements of expenditures with necessary supporting documents and keep track of advances to staff and vendors.

Prepare the payment statements and arrange supporting documents with approval for processing payments every week

Adept at scanning and filing accounts documents for audit purposes.

Update and enter day-to-day transaction data.

Vouch for expenses under different accounts through accounting software.

Prepare monthly bank reconciliation statements of all bank accounts.

Assist in preparing quarterly and annual TDS returns to the Income Tax department and issuing TDS certificates.

Support Finance Officers in updating office fixed assets records and fixed assets register.

Provide administrative support for workshops/meetings and reimbursement to participants against expenses.

In addition to the above tasks, the Finance Assistant may be called upon to undertake other accounting work if the need arises.
Founded in 2000, CREA is an international feminist human rights organization based in New Delhi, India. It is one of the few feminist human rights organizations based in the global South, led by Southern feminists, working at community, national, regional, and international levels. Together with partners from a diverse range of human rights movements and networks, CREA's work focuses on building feminist leadership, strengthening movements, expanding sexual and reproductive freedoms, promoting rights- based approaches to reducing gender-based violence (GBV), and advancing the human rights of structurally excluded people.
We like to think of ourselves as a fearless, interrogative, colorful, edgy, sexy flock of birds flying freely to explore, to imagine and to build freedoms together. 

If you are one who is ready to challenge the system when it is needed, you could be one of us.

If you believe you wish to build a world where an individual must have the agency and right to make choices about sexuality, reproduction and human rights, then you will find the room to explore here.

Constant learning and sharing of knowledge is an expectation that team members have from CREA, and CREA from team members.
Bachelor's degree required; advanced degree in a business-related field preferred.

Minimum 3-5 years experience in non-profit accounting and grants management. 

Trustworthiness, and good interpersonal and communication skills.

Impeccable attention to detail.

A foundation in non-profit accounting.

Have knowledge of taxation.

High energy level, flexibility, and willingness to work beyond office hours.

Experienced user of Tally, MS Excel, and MS PowerPoint.

Can work collaboratively in a team environment.

Self-motivated and solution-oriented.
CREA promotes pluralism and equal opportunity, is committed to diversity in its staffing, and maintains an environment free of discriminatory employment practices. No individual shall be discriminated against because of their actual or perceived age, caste, class, disability, marital status, religion, sexual orientation, gender identity or sex characteristics. Compensation will be based on experience and internal equity. A generous benefit package is included.
Interested candidates who meet the required educational and experience requirements should send their CV along with a cover letter, current and expected consultancy fees to jobs@creaworld.org by 20th November 2022. Please include in the subject line the name of the position you are applying for. Only shortlisted candidates will be contacted for an interview.
Thank you for your interest in CREA!