Meri Panchayat Meri Shakti
In a country as large and diverse as India, local village councils play a key role in ensuring pressing community issues are appropriately considered and that the basic needs of residents are addressed. By law, 33% of all seats in the local governance systems at the village level (panchayat) have to be occupied by women through electoral processes. This is an opportunity to raise women's voices in local governance but, despite being enshrined in law, many elected women representatives are silenced in practice and are not the actual power holders. Elected Women Representatives (EWRs) in local governance bodies face many social and structural challenges in engaging in political spaces because of their gender identities and assumed leadership skills. These include gender stereotyping, inadequate education, lack of financial independence, and opposition stemming from entrenched patriarchal views, by families, members of their communities, and leaders of institutions.
In order to support EWRs to fully exercise their rights as women leaders who can themselves build an environment where all women and girls live free of violence, stigma, and discrimination, CREA developed a series of trainings under the Meri Panchayat, Meri Shakti (My Local Governance, My Strength) program to foster feminist leadership at the community-level. The strengthened feminist leadership amongst EWRs in turn builds confidence among women leaders to raise their voices around issues of women and girls in both their panchayat and communities.
I am moving from reservation to participation. My husband is not my proxy anymore and I have my own identity now. Though the fight is still on, if I have managed to come this far I will definitely be able to reach my aim of becoming a self-sufficient EWR. CREA and Gramoday Chetna Kendra have supported me in this journey.
Meri Panchayat | Meri Shakti participant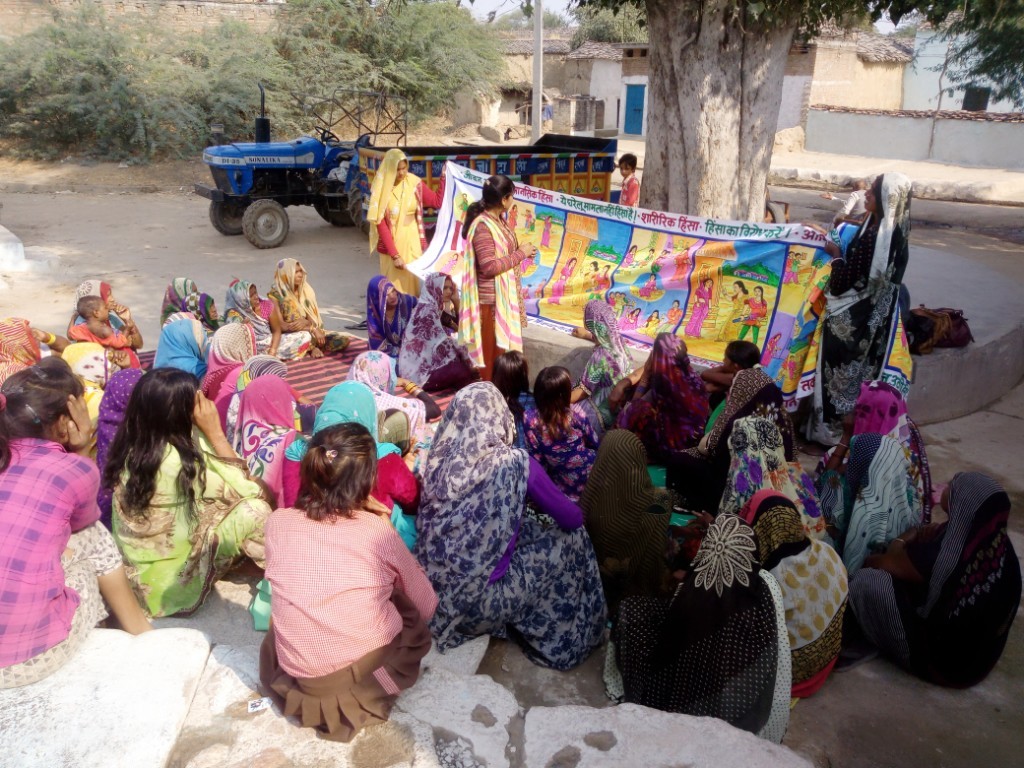 The community-based program, led by CREA, is co-implemented with 11 community-based partner organizations in three Hindi-speaking states — starting first in Jharkhand and expanding to Bihar and Uttar Pradesh. MPMS builds the capacity and knowledge of EWRs, women collectives, young girls groups, family members of EWRs, other panchayat members, and community-based partner organizations on political systems, gender-based discrimination, rights and violence and the importance of actual power exercise by these EWRs. Since 2013, the MPMS program has built the capacity of over 2000 EWRs and 3000 women members from women collectives to function effectively as agents of change in local governance, local institutions, and at the community level. These feminist leaders have been able to move beyond tokenistic participation in local governance that is mandated through reservation and have created an environment that upholds the principles of feminist leadership, decision-making, and effective local governance. The impact study of the program provides evidence on attributes of greater leadership and agency of EWRs so that they not only have the information to participate in local governance, but also the skills and confidence to negotiate at an individual, societal and systemic level along with an ability to establish themselves as feminist leaders for the community.
In 2021, CREA integrated its MPMS program into its new global South-led Women Gaining Ground (WGG) consortium, which builds the capacity and transformative leadership of young women and girls, and women with disabilities (WWDs) to lead political and social transformation to redefine, prevent and eliminate sexual and gender-based violence. CREA's MPMS program allows the consortium to establish its strategies for improving political participation in existing work with EWRs and create spaces for structurally silenced voices in institutional spaces, especially those of women with disabilities and young girls. WGG's focus on disability has led to a deeper integration of disability within MPMS with EWRs leading conversations on disability and working with women with disabilities in village assemblies and planning processes.
Over the last few years, MPMS has shown a great impact in strengthening and fostering feminist leadership at the local level. The program has led to a greater awareness among panchayat members of women and girl's development and empowerment schemes, deepened the panchayat's focus on the rights of persons structurally excluded from accessing their rights, and supported EWRS in negotiating rights and leadership space for themselves. MPMS has and continues to uphold actual power for those who are its authorized power holders.