Over the years, CREA has developed a framework of challenging criminalization in our work on gender-based violence and amplifying the rights, priorities, and perspectives of sex workers, sexual and gender diverse persons, young persons, other structurally excluded women*, and people with disabilities. 
We understand criminalization to encompass more than the criminal legal system.  It also includes punitive policies and practices that both shape and express the law, as well as its social, cultural, economic, and political context. We engage in advocacy to challenge punitive laws, policies, and practices and contest social and cultural practices that systemically undermine rights of structurally excluded people, instead of affirming them. Far too often, criminalization in the name of "protection" of groups considered "vulnerable" or "weak"  does not protect their rights, but rather puts them at risk of discrimination, violence, harassment, extortion, and incarceration. Often, this takes place without attention to education and public health evidence in support of non-punitive and rights affirming measures to address violence and discrimination.
Over the years, CREA's work on and with sex work, sexual and gender diversity, abortion, young girls, and disability has taken a  challenging criminalization approach. CREA uses an intersectional lens in its work to challenge criminalization, recognizing the diverse contexts of criminalization that different communities face, from specific criminal laws, and societal stigmas that deny autonomy to social norms that penalize non-normative gender expression, identity and sexuality.
Challenging Criminalization Globally campaign is founded on a very strong principle of collaboration to bring together a wide and diverse community of partners across a diverse array of movements and sectors working to challenge various punitive laws and policies curtailing the agency and autonomy of our communities, therefore demanding accountability for our lives, human rights, well being and dignity.
Ricki Kgositau | Accountability International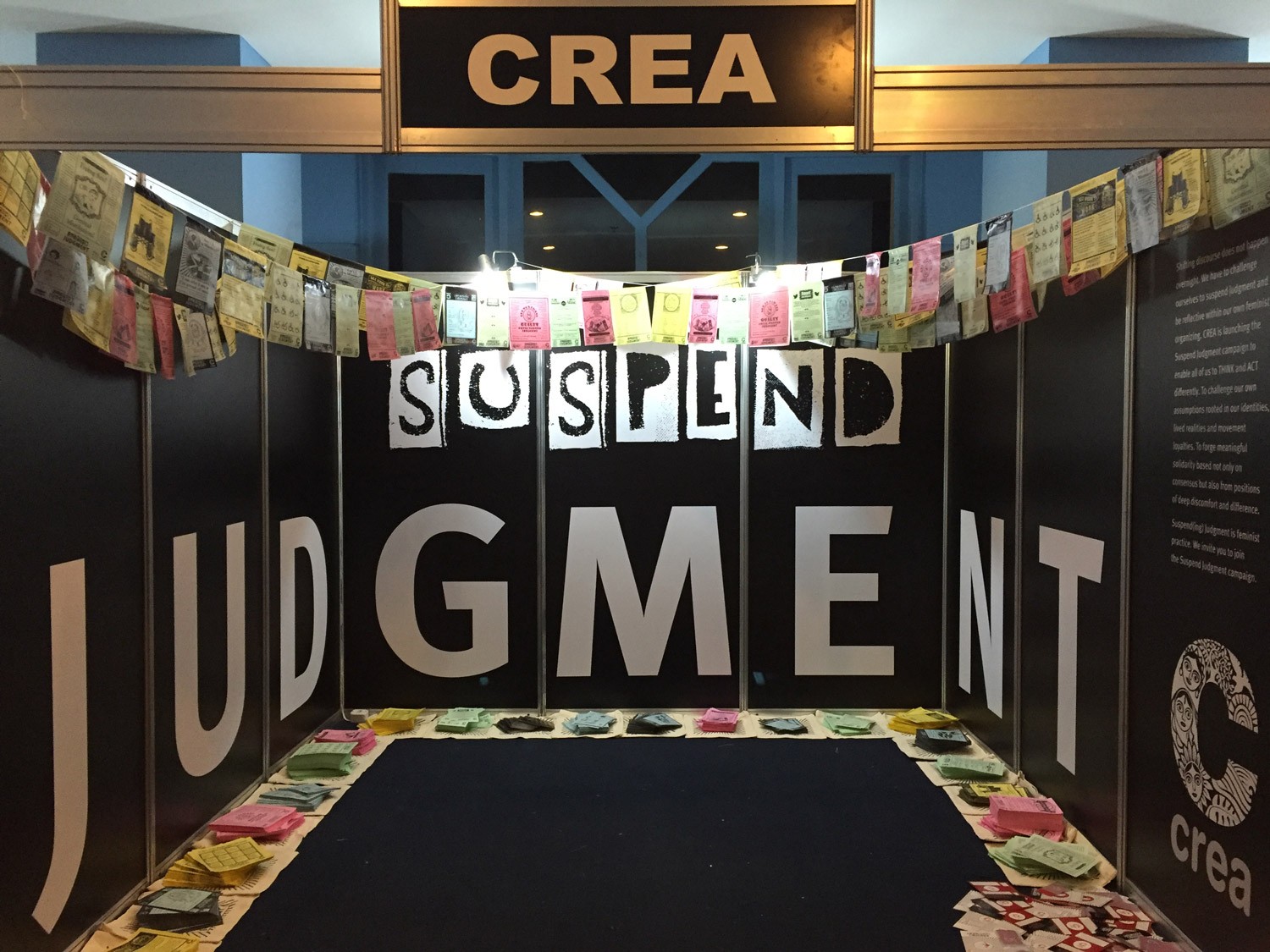 By foregrounding its work within the challenging criminalization framework, CREA seeks to: build awareness and engagement, provide evidence of the harm caused by criminalization, and build cross-movement solidarity on the negative consequences of criminalization from a feminist lens. 
Since 2019, CREA has been working on challenging criminalization in South Asia to prompt feminist movements and allies to rethink their approach to criminalization of gender based violence and other harms against women* and young people. Through a 2019 campaign titled "#FLAWSINLAWS: Rethink my freedoms, Reimagine my rights, Realize my futures" in partnership with Aahung (Pakistan), YUWA (Nepal), Bandhu (Bangladesh), YP Foundation (India), Youth Advocacy Network (Sri Lanka), Hidden Pockets (India) and Arrow (Malaysia), CREA used online and offline space to highlight the impact of criminalization of gender identity and expression, sexuality and sexual reproductive health on young people's rights. Building on the rich conversations surrounding the campaign, CREA has created knowledge resources that expand on these concepts and envision alternatives to criminal legal systems for securing justice and accountability.
CREA supports sex worker collectives and organizations globally in their advocacy for decriminalization of all aspects of sex work, especially initiatives that punish sex workers and violate their rights in the guise of protection. CREA also works with sexual and gender diverse communities to counter stigma, discrimination and violence that occur due to punitive laws and policies criminalizing their identity and expression. CREA's work on challenging criminalization with sex workers and sexual and gender diverse communities ranges from capacity building, perspective building, alliance strengthening with feminist movements, as well as, supporting advocacy within UN spaces. CREA will continue to collaboratively seek opportunities to continue challenging criminalization and push for rights-based approaches to addressing gender based harms. 
To check out the 2019 campaign #FlawsInLaws click here. 
To check out our 2021-2022 campaign "Your Protection Doesn't Protect", built on the framework of challenging criminalization, click here.
*CREA uses "women" broadly to include lesbian, bisexual, and queer persons, intersex, trans, gender non-conforming and gender non-binary persons.