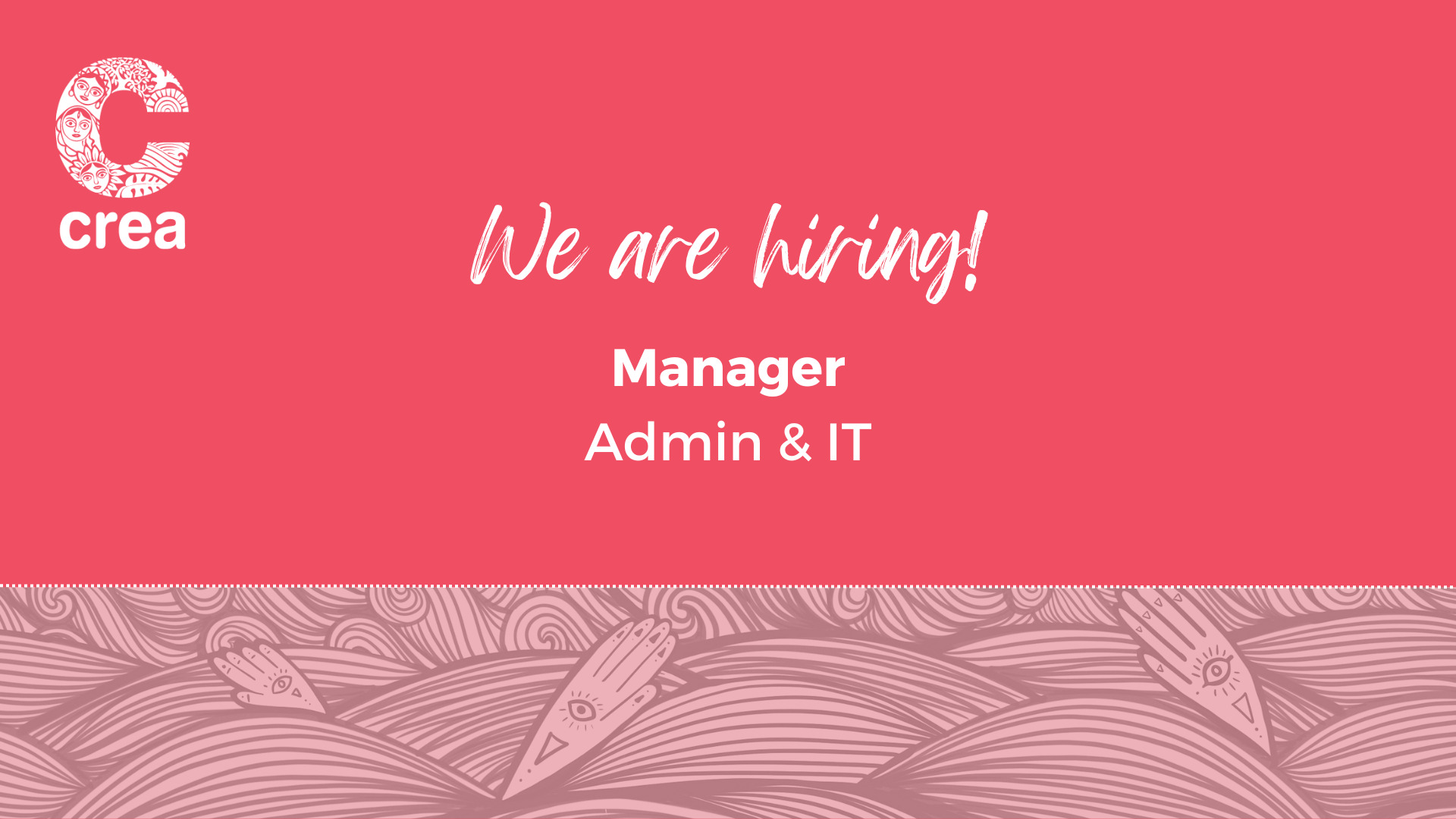 Title: Manager – Admin & IT
Location: Delhi, India
Status: Full-time
Position Overview
The Manager – Admin & IT will work closely with the Director – Events, Admin & IT and will perform the following functions in accordance with CREA's strategic vision, mission, and goals. 
Major Duties and Responsibilities:
Admin Support – Office Infrastructure Coordination and General Administration
Monitor all Annual Maintenance Contracts (AMC) and Asset Insurances for India and global assets
Maintain inventory of general office supplies and equipment
Maintain overhead expenses e.g.. telephone bills, electricity bills, newspaper bills, tea and refreshments, printouts, any other regular purchases, etc.
Ensure proper function of office equipment, schedule and supervise needed repair
Oversee electricity and water supply, Internet services and other IT maintenance, coordinate with the RWA of the society where the office is located
Monitor and maintain all IT equipment (PCs, laptops, printers etc.)
Maintain relationships with contractors, carpenters, electricians and other vendors
Ensure proper ergonomics on the office premises
Oversee the housekeeping
Arrange and coordinate accommodation for guests, manage local travel requests from staff and external partners.
Monitor and understand the expenditure and cost control measures based on the same.
Ensure AMC renewal, and oversee repairs and maintenance for CREA offices and guest house
Oversee the set-up of equipment, Zoom links, stationary, publications, and arrangement of food, tea/coffee etc. for Board, Advisors and senior leadership meetings and internal events
Ensure maintenance of CREA Asset Database, Tagging and Asset Insurance
Maintain inventory list of Asset Database for CREA Office and guest house and supervise discarding of old equipment in consultation with the Finance team.
Oversee printing of CREA publications, as well as their dissemination and archiving
Admin Support – Procurement and Vendor Contract Management
Manage stock inventory, cross-verify the stock on monthly basis and maintain inward outward register
Provide all administrative and procurement support during events
Manage an account and follow up on the request received from the teams regarding all office materials
Maintain the Assets Register and ensure all the assets are coded properly
Manage the consultants/vendor database and organizational contacts on NextCloud
Oversee renovation/goods shifting of both the offices (Ground Floor and Basement, 7 Jangpura B and 7 Nizamuddin East) including vendor management, vendor contracts, and procurement of goods and services.
Supervise shifting of all office materials
Manage vendor contracts and follow up with finance for timely vendor payments.
IT Support
Liaise with manufacturers of hardware e.g. HP, Lenovo, Apple, Dell etc.
Ensure data backups of all computers
Proactively engage in the digitalization/automation process of various processes within the organization, such as employee expense management, vendor expense tracking, timesheet management, finance processes etc.
Oversee the resolution of staff's IT-related concerns
Ensure IT support during workshops, conferences and meetings etc.
Coordinate with the IT team for the restoration of Windows/Mac OS and re-installation of system applications.
Ensure monthly health check-ups of all computers, laptops, and printers including antivirus and other relevant software Monitor and troubleshoot virus-related problems in coordination with the IT team.
Ensure the joining kits including laptops are up to date with relevant softwares for all new staff joining CREA
Ensure tech support for CREA online events (e.g.. webinars) and Institutes
Oversee support to staff for the listed products:
– GSuite: Official email hosting and file sharing
– Zoom: Official online meeting platform
– NextCloud: Official cloud storage platform
– Dropbox: Official cloud storage for archiving
– Signal: Preferred instant messenger for quick communication
– Wire: Preferred instant messenger for updates on events, leaves, travel
– WeTransfer: Preferred file transferring tool for large files
– Vimeo: Video hosting platform
Founded in 2000, CREA is an international feminist human rights organization based in New Delhi, India. It is one of the few feminist human rights organizations based in the global South, led by Southern feminists, working at community, national, regional, and international levels. Together with partners from a diverse range of human rights movements and networks, CREA's work focuses on building feminist leadership, strengthening movements, expanding sexual and reproductive freedoms, promoting rights- based approaches to reducing gender-based violence (GBV), and advancing the human rights of structurally excluded people.
We like to think of ourselves as a fearless, interrogative, colorful, edgy, sexy flock of birds flying freely to explore, to imagine and to build freedoms together. 

If you are ready to challenge the system when it is needed, you could be one of us.

If you wish to build a world where an individual must have the agency and right to make choices about sexuality, reproduction and human rights, then you will find the room to explore here.

Constant learning and sharing of knowledge is an expectation that team members have from CREA, and CREA from team members.
We are seeking an exceptional professional with 5-8 years of work experience and ideally a demonstrated passion for working in the development sector. Candidates who fit the following criteria are strongly encouraged to apply:
Degree in the relevant discipline, such as B.Tech or MBA with a background in IT
5-8 years of work experience in an IT and admin role
Previous experience with development and implementation of enterprise resource planning (ERP) systems or digitalization of processes will be an added advantage
Willingness to learn and improve
Flexible and adaptable to new processes, technologies and situations, and motivated to work in a fast-paced environment
Highly detail oriented with financial acumen
Ability and drive to work independently
Excellent communication skills, both written and verbal
Proficiency in English
Strong leadership and supervisory skills
Note: This job description is a general outline of the key responsibilities and qualifications required for the role of Manager- Admin & IT. It may be subject to modifications and additional responsibilities based on the specific needs of the organization.
We Offer 
We are committed to providing a working environment with constant learning and equal opportunity for all. We co-create an inclusive environment where diversity is valued. The salary range for this position is: INR 90,000 – 1,85,000 per month depending on qualification and experience. 
Leaves/ Holidays
20 days annual leave

12 holidays as per the CREA list of holidays

12 days of sick/casual leave

One week of winter break at the end of the year
Persons with disabilities who identify as women, gender non-conforming, non-binary and/or trans are strongly encouraged to apply. CREA promotes pluralism and equal opportunity and is committed to diversity in its staff and to the maintenance of an environment free of discriminatory employment practices. CREA's policy is to provide equal employment opportunities to all individuals. No individual shall be discriminated against because of actual or  perceived age, caste, class, disability, marital status, religion, or sexual orientation. Compensation will be based on experience and internal equity. A generous benefit package is included.
CREA is committed to providing access, equal opportunity and reasonable accommodations for individuals with disabilities in employment, within its programmes, communication and activities. We are committed to being flexible, supportive and accommodating in the way we work. If reasonable accommodations are needed to participate in the application or interview process, please contact: reasonable.accommodation@creaworld.org 
Interested candidates who meet the required educational and experience requirements should send their CV along with a cover letter, current and expected salary to jobs@creaworld.org by 28th August 2023. Please include the name of the position you are applying for in the subject line. Only shortlisted candidates will be contacted for an interview.