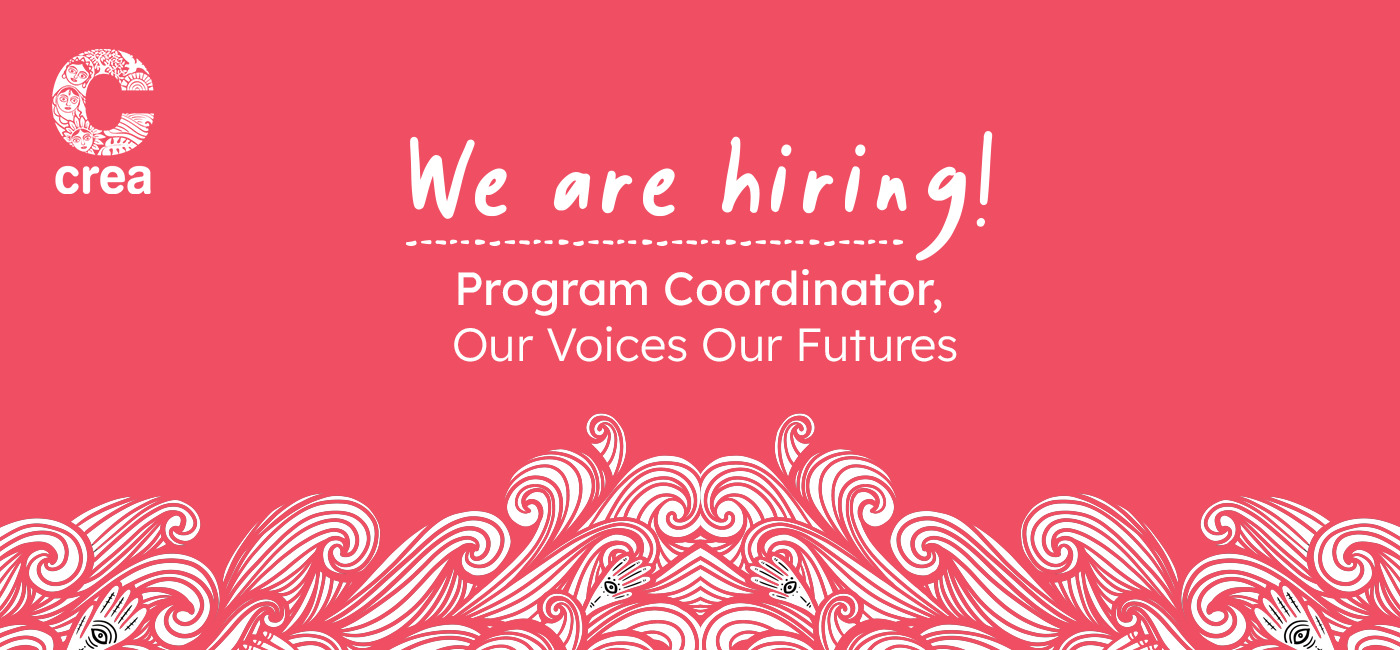 Title: Program Coordinator – Our Voices Our Futures Consortium
Location: India
Reporting: Program Director – Fostering Collective Resilience 
Status: Full-time
Key Relationships: Director – Fostering Collective Resilience, Manager – Programs and Innovation, OVOF Consortium Coordinator, CREA East Africa team, partners in India, Middle East and North Africa (MENA), Sudan, and South-Asia, CREA's Monitoring, Evaluation and Learning (MEL) team, Finance team, Administration team, and other team members responsible for delivering on the program
Position Overview
The Coordinator will be responsible for coordinating and implementing CREA's program activities under the Our Voices, Our Futures (OVOF) program. This includes coordinating and co-creating the implementation of CREA's program activities under OVOF in South Asia, East Africa, Sudan, and MENA, along with other regions where CREA's work under its Strategic Objective 4 on Fostering Collective Resilience and overall OVOF work is active. Key responsibilities include providing project management and coordination for all aspects of CREA's programmatic work related to OVOF. 
OVOF is a global South‐led consortium, comprising CREA (lead), the Association for Progressive Communications (APC), UHAI — The East African Sexual Health and Rights Initiative, and WO=MEN. The consortium partners are complemented by strategic partner IM‐Defensoras, a Mesoamerican women's human rights defenders (WHRDs) organization. OVOF will amplify voices and increase visibility of structurally silenced women in Bangladesh, India, Kenya, Lebanon, Sudan, and Uganda, resulting in structurally silenced women taking their rightful places in civic space and participating across three key spaces: online space, physical public space, and legal and policy space.  
Major Duties and Responsibilities:
Partner and Program Coordination
Coordinate CREA's South Asia, East Africa, Sudan, and MENA country work, in collaboration with the Manager – Programs and Innovation. 

Follow up and assist all CREA OVOF country partners on preparation of work plans. 

Conduct regular correspondence for implementing the planned activities with country partners, and report progress and challenges. 

Conduct effective and timely communication and regular visits to partner organizations to participate in joint consortium activities and all the other activities co‐organized by CREA. 

Support the Manager – Programs and Innovation in identifying and executing inter‐consortia (with respect to two other consortiums that CREA is a part of) joint activities/cross‐learning and networking convenings. 

Work closely with the OVOF secretariat communications team and CREA partners for OVOF communications, reporting, advocacy, and campaign-related activities.
Logistics
Organize and manage logistics for consortium trainings, workshops, campaigns, meetings, in consultation with the Manager – Programs and Innovation. 

Support OVOF-related events/panels by sending out meeting invites, follow up on RSVPs, prepare resources and meeting folders. 

Draft terms of reference for consultants and coordinate payments with the Operations team.
Program Implementation
Coordinate, implement, and support program activities that CREA is responsible for (as per the work plan), in consultation with other team members responsible for delivering on the program. 

Participate and help plan CREA trainings, workshops as required for OVOF. 

Support the Program team to forge new partnerships and alliances to advance understanding of democracy, closing civic space, and the right to dissent and freedom of expression. 

Provide support for coordinating CREA's advocacy strategy linked to OVOF. 

Conduct regular scans through quick literature reviews and desk research on important developments, events, campaigns, etc., which could possibly have an impact on the program.
MEL, Reporting and Documentation
Support the Consortium MEL team in gathering data from all CREA partners. 

Follow up with CREA's strategic partners to ensure that they are collecting data in specified formats. 

Provide support to external agencies conducting baseline, midline, and end-line evaluations. Prepare drafts of annual narrative reports to be submitted to the donor. 

Prepare drafts of annual work plans to be submitted to the donor. 

Prepare draft presentations, concept notes and/or write‐ups for meetings and consultations.

Provide support for other kinds of documentation.
Representation
Represent CREA in different platforms, as and when necessary. 
Founded in 2000, CREA is an international feminist human rights organization based in New Delhi, India. It is one of the few feminist human rights organizations based in the global South, led by Southern feminists, working at community, national, regional, and international levels. Together with partners from a diverse range of human rights movements and networks, CREA's work focuses on building feminist leadership, strengthening movements, expanding sexual and reproductive freedoms, promoting rights- based approaches to reducing gender-based violence (GBV), and advancing the human rights of structurally excluded people.
We like to think of ourselves as a fearless, interrogative, colorful, edgy, sexy flock of birds flying freely to explore, to imagine and to build freedoms together. 

If you are ready to challenge the system when it is needed, you could be one of us.

If you wish to build a world where an individual must have the agency and right to make choices about sexuality, reproduction and human rights, then you will find the room to explore here.

Constant learning and sharing of knowledge is an expectation that team members have from CREA, and CREA from team members.
Graduate (master's degree or equivalent experience preferred) in the area of /social science/human rights/international development with relevant issues-based experience on advancing the rights related to sexuality, gender, and/or sex work. 

Three to five years of work experience in a similar role with NGOs from the global South and/or in international development organizations with experience working in multiple regions and contexts. 

Have a strong understanding of and experience with sex workers' rights, rights related to sexuality and/or gender diversities, women human rights defenders, sexual and reproductive rights, democracy and dissent, cross‐movement collaboration, and a commitment to advancing these rights. 

Strong working knowledge of international development, women's human rights, social justice, and feminist movement building demonstrated through a minimum of five years of relevant work experience. 

Excellent writing skills in English and strong communication skills with both internal and external audiences. 

Detail-oriented and takes initiative with an ability to self‐motivate and produce high-quality products. 

Be tech and social media savvy to contribute to CREA's online campaigns. 

Committed to ongoing professional learning and knowledge sharing with CREA staff. 

The position may involve travel (COVID-19 pandemic context-dependent) nationally, regionally, or internationally, as needed. 

Flexibility in working across diverse time zones.
We Offer 
We are committed to providing a working environment with constant learning and equal opportunity for all. We co-create an inclusive environment where diversity is valued. Salary range: INR 50000 – 100000 per month depending on qualification and experience.
Leaves/ Holidays
20 days annual leave

12 days holiday leaves as specified in the list of holidays

12 days of sick/casual leave

One week of winter break at the end of the year
CREA promotes pluralism and equal opportunity, is committed to diversity in its staffing, and maintains an environment free of discriminatory employment practices. No individual shall be discriminated against because of their actual or perceived age, caste, class, disability, marital status, religion, sexual orientation, gender identity, or sex characteristics. Compensation will be based on experience and internal equity. A generous benefit package is included.
Interested candidates who meet the required educational and experience requirements should send their CV along with a cover letter, current and expected CTO to jobs@creaworld.org by 20th February 2023. Please include in the subject line the name of the position you are applying for. Only shortlisted candidates will be contacted for an interview.
Thank you for your interest in CREA!