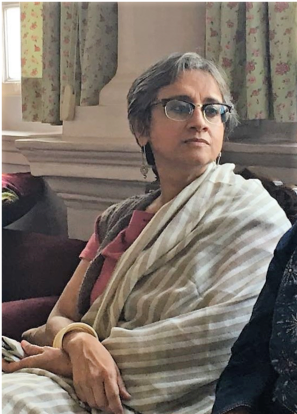 Advisor
Dipta Bhog is presently Head of Research, Innovation and Partnerships, for The Third Eye, a feminist Education portal. The Third Eye is a feminist think tank working on the intersections of gender, sexuality, violence, technology and education. The portal is a response to the immense role technology plays in the spread of knowledge production, and the deep deficit of open source, bilingual resources to navigate the new parameters of knowledge and access.
Dipta Bhog has worked on gender and education for close to three decades.  She co-founded Nirantar, a Centre for Gender and Education in Delhi, and has extensive experience of working on women's literacy, adult and girls education and rural journalism at the level of program design, implementation, policy and impact. She coordinated a five-state study titled Textbook Regimes that analysed school textbooks from a feminist lens and has worked on writing textbooks for both national and state governments. More recently, her research work focused on women leaders from rural areas and small towns who run non-governmental organizations. She redesigned and conducted CREA's Institute on Feminist leadership and Movement Building in South Asia and East Africa for two years.
Dipta Bhog was instrumental in initiating Khabar Lahariya, which started as a newspaper in 2002, and has been involved in training the team of rural women journalists. Her research on young girls and their collectives resulted in the Birdbox, an audio-video installation in the shape of a re-engineered bioscope, where you can bear witness to conversations of young girls from Bhopal, Lucknow and Karvi, on desire, love, shame and freedom. Dipta loves walking her dogs and dreaming of living next to the sea.